Maker Faire 2011
Milena Popova reports from the Maker Faire UK 2011 in Newcastle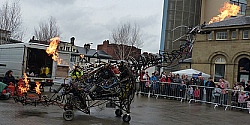 Image: CC-AT-NC-SA Flickr: elmyra
Maker Faire UK is a two-day celebration of creativity, sharing and the pure joy of making things, which took over Newcastle's two main science venues, the Centre for Life and the Discovery Museum, over the weekend of March 12th and 13th. It's an event with a long tradition in the US, and this year saw its third UK incarnation.
This year's fashion item were clearly 3D printers. You couldn't move without bumping into one. We had 3D printers printing trinkets, 3D printers printing helicopters, and even 3D printers printing other 3D printers!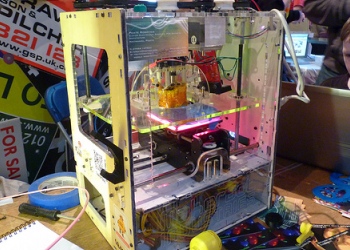 Once you got over that though, the other striking thing about Maker Faire was the sheer variety of exhibits. The Faire's tagline lists 'robots, bicycles, cars, electronics, alternative energy, circuit boards, crafts, photography, synths, knitting, wood working', and I reckon there were a fair few other things there too.
Exhibitors ranged from commercial companies selling electronics kits and silicon goo, to people and groups who were purely there to share and showcase some of the cool stuff they had made. I asked Emily Toop, who was exhibiting some very cute miniature robots and other gadgets with partner Ian Ozsvald, why she was there. "In my day job, I'm a software developer," she said. "It's brilliant to be able to actually do something physical, make something that physically interacts with the world, like my robots. And it's great to be able to show that off to the public."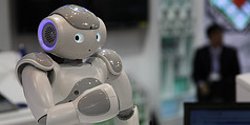 I spoke to Lizzie Taylor, contributor to the free online sharing community Instructables and inventor of the giant knitted Lego brick. I asked Lizzie what prompted her to share the patterns and instructions for her creations for free on the internet. Copyright, she said, was one factor: with something like a knitted Lego brick, selling it is not an option as Lego would probably come after you. There is less chance of that if you're giving the pattern away for free.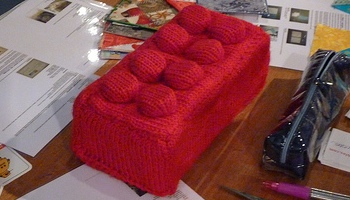 Commercial viability was another - to make as much from her craft as she does from her day job, Lizzie would need to price her creations in a way that would put them out of reach of most people; the alternative would be to sell at a loss, which would undercut people who really make their living from craft, and she didn't feel was fair. Ultimately, though, what Lizzie really hoped to do was to inspire others to make things.
I asked Martin, another Instructables contributor, how he got involved with maker culture. He started out making an external camera flash for his photography project. "It cost me about £2 in parts, or I could have bought it much more expensively from a shop. I wanted to share that with others, to show them how to make things cheaply and be creative." He also thought it was important for people to understand how, for instance, their various gadgets and devices worked. "Once you've bought something, it should not be a black box to you, you should be able to understand it and retain control of it. I like enabling people to do that."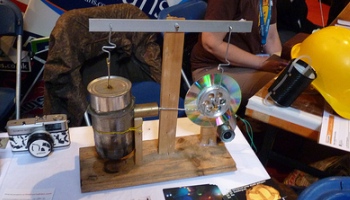 Martin also introduced me to the magic of The Great Internet Migratory Box of Electronics Junk - a fantastic resource for makers of an electronics persuasion. It's simple: you have a box, it's full of electronics stuff; when you get it, you can take anything that you like and can use, and you can put components in that you no longer need. Then you send it on to the next person on the list. It's a somewhat haphazard but at the same time inspiring way of obtaining parts for your projects - and generating new project ideas!
I also ran into the guys from London Hackspace who were doing all sorts of exciting things with the Kinect. Most of the projects they were showcasing at Maker Faire had actually been put together during the event, often collaborating with other exhibitors. Similarly to Martin, they too felt that it was important for people to be in control of their devices and not the other way round. Maybe that was why last I saw them, they were off to work on their Evil Genius Simulator, allowing them to control some quite impressive devices with the wave of a hand. (Go on, follow the link, you won't regret it!)
Newcastle local Alistair MacDonald, inspired by the Live London Tube Map, has put together something similar for Tyneside Metro. Currently the project only runs on timetables rather than live data. Alistair is still hoping to get access to the live data from Nexus, following the success of the London version. "London Underground didn't lose anything by making that data available," he says, "but allowed a massive benefit for the public to be created. If we get the live data from Nexus, people will be able to take one look at the website and decide when to leave the house to catch the next metro."
As the day was nearing its end and the Faire started winding down, I stopped at one final exhibit and met Stuart Childs from the Leeds-based Jam Jar Collective.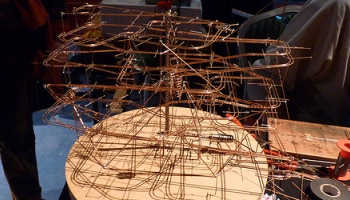 I asked him why he was at Maker Faire. "It's the best event I attend!" he said. "You meet so many new and different people, there are the übergeeks showing off their projects, and families and the general public - those two groups would never normally mix! I meet lots of great people here, make friends and start off new projects with new collaborators." Unlike most other exhibitors I met, who are either commercial or purely there for the fun of it, the Jam Jar Collective combine the two. Their creations - hardware, software, and art - are shared in an open and accessible way.
At the same time, they run paid-for workshops, take commissions, and sell DIY electronics kits. Stuart says, "When we work with clients, we make it very clear to them up front that we will want to openly share the design or source for whatever it is we make for them. Some are scared off by that, but then we probably wouldn't want to work with them. It takes a while to get something like this to the point where it makes money, and I do often eat beans on toast for weeks on end, but I love being part of a community, sharing things, and being able to give back to the community too."
I came away from Maker Faire cheerful and inspired. There are so many people out there not just making things but openly sharing, showing and teaching others how to do the same. The maker community is open and welcoming to anyone, so go find a fun project on Instructables or get yourself down to your nearest Hackspace and start making!
All photos courtesy of elmyra under Creative Commons license BY-NC-SA
Milena is an economics & politics graduate, an IT manager, and a campaigner for digital rights, electoral reform and women's rights. She tweets as @elmyra
Share this article











Comments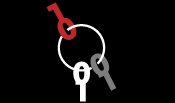 Latest Articles
Featured Article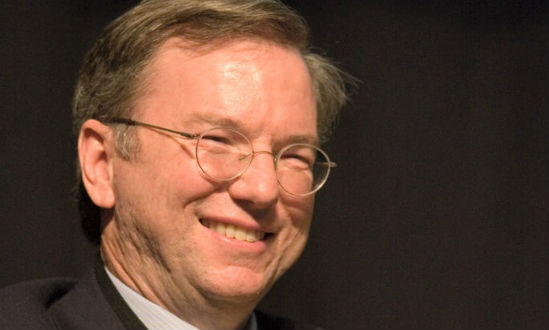 Wendy M. Grossman responds to "loopy" statements made by Google Executive Chairman Eric Schmidt in regards to censorship and encryption.
ORGZine: the Digital Rights magazine written for and by Open Rights Group supporters and engaged experts expressing their personal views
People who have written us are: campaigners, inventors, legal professionals , artists, writers, curators and publishers, technology experts, volunteers, think tanks, MPs, journalists and ORG supporters.
ORG Events