Three things I learned at the Turing Festival
Milena Popova condenses a weekend of talks at Turing Festival, Edinburgh's International Technology Festival in a report for ORGzine.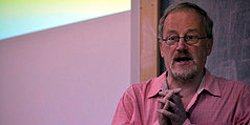 Image: Ross Anderson at Turing Festival CC-BY-SA Flickr: jimkillock
Governments are not in the business of defending freedom

To seasoned digital rights campaigners this is probably not news, but it's definitely something worth reminding ourselves of. It was certainly a theme that ran through the "Freedom and Security" session at the  Turing Festival in Edinburgh on Saturday morning.

Cambridge Security Engineering Professor Ross Anderson gave a bleak view of our rapidly eroding privacy and the Draft Communications Data Bill and its potential consequences. While in the 1990s and early 2000s we may have consoled ourselves with the option of encrypting our communications to protect ourselves from government intrusion, more recently cryptography has become less useful. With most of us now using services like Gmail or Facebook as our primary communication methods, it is no longer safe to assume that the endpoints of a message are controlled by the user. At the same time, anyone interested in the content of our communication can get the vast majority of what they need from so-called communications data - information about who we have communicated with, how, and when. The scope of the Draft Communications Data Bill is both vast and vague - a point also picked up on by ORG's very own Jim Killock in his overview of the digital rights landscape. It may give the state unprecedented powers to automatically access our communications data from our Internet Service Providers, our mobile operators or even services such as Gmail, Yahoo and Facebook. As Professor Anderson rightly pointed out, we urgently need to have a national debate on whether we want an internal electronic surveillance agency and if so how we should structure and govern it. In the meantime though we need to continue the campaign against the draft bill, getting Labour, pro-civil-liberties Tory MPs and the Liberal Democrats on side. As Ross Anderson said, if the Lib Dems support this Bill then we need to ask ourselves what the Liberal Democrat party is for.

A similarly dire view of surveillance and government disregard for civil liberties in the digital space on the other side of the Atlantic was presented by the founder of the Calyx Institute Nicholas Merrill, who in the mid-2000s found himself having to challenge the constitutionality of parts of the US Patriot Act. Served with National Security Letter asking him to provide data on users of his ISP and banning him from speaking out about this, Mr Merrill sued the federal government which eventually led to the National Security Letters provisions of the Patriot Act being ruled unconstitutional. The lawsuit also exposed the extent of the issue: over the course of three to four years in the mid-2000s over 300,000 such letters were sent to US citizen. By conservative estimates at least one in every 1,000 Americans will have been affected by them. Outraged by the fact that most telecommunications companies will comply with government requests for user data, no questions asked, Nicholas Merrill is now working on a project to create an ISP with user privacy at the core.

As a media lawyer and New Statesman legal correspondent, David Allen Green's view of both law making and the legal system is perhaps unsurprisingly cynical. To illustrate both the conspiracy and (in his words) the cock-up theory of law making, he took the audience through the history of the criminalisation of homosexuality in the UK, the Twitter Joke Trial as well as parts of the Communications Data Bill. Perhaps his most chilling comment also illustrates the key difference between the US and UK legal traditions: the UK, says Green, does not have a tradition of rights-based law. Where in the US you can challenge something like the Patriot Act for being unconstitutional, in the UK arguing a case on human rights grounds is "a sign to the judge that you are desperately waving a white flag". This in turn makes David Allen Green's call to action to all of us even more important: we increasingly have the tools to influence law making - from following the progress of a bill and various throw-away amendments with potentially disastrous unforeseen consequences through Parliament, to writing to our MPs and holding them accountable for their actions. We need to use those tools to ensure our rights are not infringed at the law making stage, as arguing them in court later is likely to be more difficult and less successful.

Your digital music, film and book collection dies with you

Dr Wendy Moncur from the School of Computing at the University of Dundee researches the intersections between technology and the milestones of our lives - including what happens to our complex digital lives when we die. Did you know that your Flickr account expires on death? Let's hope your family has a back-up of all your lovely photos. Terms of service vary widely across the many digital services we use, and there is little in the way of legal framework to enable us to bequeath our digital assets to someone. Your family may not be aware of the existence of an account, may have problems proving that it was your account in the first place, or may find that once you put the content online you lost ownership of it. Depending on your needs, you may find that a digital executor or a digital estate service could be useful for you. None of these will help, however, when it comes to your digital content collections. The music, films and books you are giving Apple and Amazon hundreds of pounds for are often not your property and not a heritable asset. This is because you don't actually purchase the content, but only a license to use it. Buyer beware.
The Raspberry Pi was created to solve a problem with Cambridge Computing Science admissions

Eben Upton, one of the creators of the Raspberry Pi was the highlight of the "Education and the Web" session on Saturday afternoon. Among the many revelations he shared with the audience was that, a passion for getting kids into coding aside, as a former Computing Science admissions tutor at Cambridge he had an ulterior motive for creating a small cheap piece of hardware that could be used to teach programming. Over the last decade, reports Mr Upton, both the number and the quality of applicants to Computing Science courses at Cambridge has fallen dramatically. Whereas in the late 1990s applicants would routinely come in able to program in Assembly language these days they are more likely to have done web pages. "And I don't mean PHP," Upton adds. "I mean HTML." Ultimately, creating the Raspberry Pi was about countering the trend of having to make an active choice to code (as with pretty much every device since early dedicated games consoles and PCs) as opposed to having to make an active choice not to code (as with the BBC Micro and similar devices that kids in the 1980s grew up with).

The design principles behind the Raspberry Pi - cheap, robust, fun for things other than coding and bundled with every development tool under the sun - are pretty much the exact opposite to the design principles behind another piece of technology increasingly used in education - the iPad. While we may question the wisdom of giving £300 per device from the education budget to the world's most valuable company, there is a trend in schools towards including iPads in classroom activity. Kate Ho from Tigerface Games shared some key insights on the use of the gadgets in schools - from basic concept reinforcement and numeracy and literacy practice for very young children to creating multimedia presentations in middle school. She also touched on the disadvantages of the iPad, including cost, pressure on parents to buy the devices and a reinforcement of privilege structures as an abundance of educational apps aimed at pre-school-age children gives those from wealthier backgrounds a head start.

Morna Simpson, founder of the education social network FlockEdu gave us a sneak preview of the future of adult education, and Jim Thompson, Managing Director of CogBooks gave us some insights into personalised adaptive learning A lively audience debate followed the "Education and the Web" session, where we talked about our wishlist for the new ICT curriculum, broadening the appeal of technology and other STEM subjects to a more diverse group of kids, and the renewed focus on adult education and lifelong learning that we need to see to equip our society with the skills necessary for this century.
Milena is an economics & politics graduate, an IT manager, and a campaigner for digital rights, electoral reform and women's rights. She is also a member of ORG's board and continues to write for the ORGzine in a personal capacity. She tweets as @elmyra
Share this article











Comments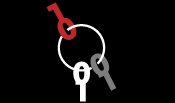 Latest Articles
Featured Article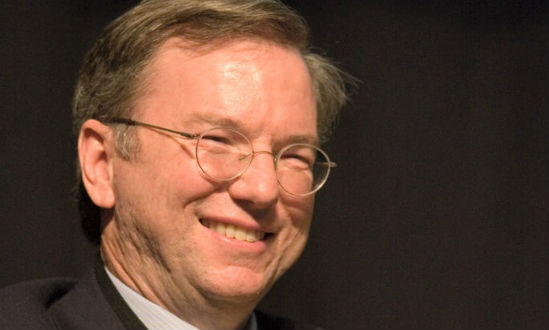 Wendy M. Grossman responds to "loopy" statements made by Google Executive Chairman Eric Schmidt in regards to censorship and encryption.
ORGZine: the Digital Rights magazine written for and by Open Rights Group supporters and engaged experts expressing their personal views
People who have written us are: campaigners, inventors, legal professionals , artists, writers, curators and publishers, technology experts, volunteers, think tanks, MPs, journalists and ORG supporters.
ORG Events