Humans Have No Default Setting
Loz Kaye, Leader of the Pirate Party UK, looks at why the Snoopers Charter has crawled its way back into the political agenda, and why it will it may not solve the problems that politicians are hoping it will.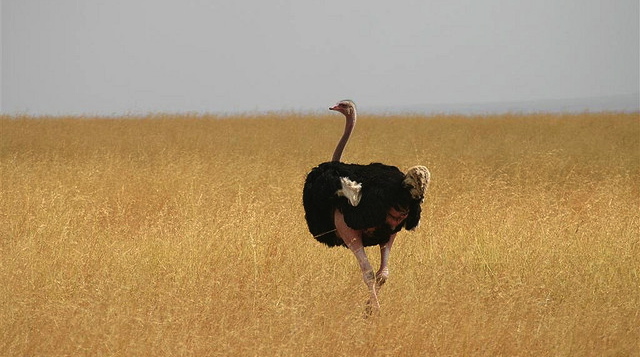 Image: Ostrich in the Serengeti, Tanzania by Iode.rummers CC BY-NC-ND 2.0
Looking at the news, Britain feels quite a grim place at the moment. From Woolwich to Wales high profile murders have left us wondering who we are as a nation - and how we stop such atrocities in the future. Over the years I can't count the times I have looked away from the tabloids in the local Coop with the haunting repeated images of the latest missing or murdered child wishing it would just stop.
 The responsibility for trying to make it stop falls, to great degree, on our politicians. It seems many have the same wish, that there would be one easy thing to do that could make it go away. As so often, technology is given the blame, it's the Internet's fault and Google's "deadly web of poison and hatred" as the Daily Mail would have it. From casual use of computers and phones, it is tempting to think there is an easy off switch. Basically the only concrete thing the government and opposition have offered as a response to recent events is surveillance, web blocking and filters.
 In the immediate aftermath of the tragic events in Woolwich the likes of Theresa May and Labour's Lord Reid were quick to call for the return of the Snoopers' Charter. The implication was that its blanket surveillance powers would somehow have prevented a thuggish street attack, with the Home Secretary claiming that it was part of giving law enforcement "the tools that they need".
 However, no one has demonstrated in a concrete way how the CDB would have prevented this particular incident, with security service sources saying in fact it would not have helped. Lord Reid seems to suggest that increased blanket powers would deal in a general way with a great nebulous threat he paints. This is despite for example Danish police recently reporting that data retention has not helped them, in fact the information is described as "unusable".
This boils down to political opportunism, a chance to take a pot shot at all of us who have fought to protect civil liberties. Even MI5 sources characterised this as cheap.
 The other side of the Internet blame game since Woolwich has been laying the responsibility for radicalisation at the door of "Sheikh Google", with impressionable young people creating their own cut and paste ideology. This is hardly a new approach, the 2011 Prevent strategy review to deal with countering domestic extremism declared "Internet filtering across the public estate is essential".
 Even so, the very same document concedes that there is not the evidence to back this up nor is there the capacity to do it: "We do not yet have a filtering product which has been rolled out comprehensively across Government Departments, agencies and statutory organisations and we are unable to determine the extent to which effective filtering is in place..." The situation on the ground is fundamentally the same as two years ago. No new powers over the Internet were called for when Theresa May said it was "a strategy that will serve us well for many years to come". What has changed since then, other than a desire for sound bites about hate preachers?
 Similar calls have come in the wake of the most distressing crimes I think most of us can conceive of, the death of young children. Once again the speed to which some commentators have used specific cases to push a particular agenda is profoundly unsettling. This has also come from quarters which should frankly know better. The Guardian editorial which wilfully mixed together legal images and records of attacks on children to make a case for "banning Internet pornography", however they think that might be achieved, was deeply irresponsible.
 Let's be clear. Images of attacks on children are evidence of crimes. I, and society at large, expect these crimes to be investigated, that has always been the case and nothing has changed about that.
 However, there is no way to get from that to the calls like John Carr 's for Google to change its default settings, or the more diffuse thundering that 'something should be done' by the tabloids. Agreeing that you are 18 plus is hardly a high barrier, and it is not even likely that this will happen in the way Carr describes. Nor is there evidence that further restrictions would be productive. Much is made both in relation to extremism and pornography to the increasing ubiquity of the Internet and availability of material. But there is no demonstrable surge in sexual assaults attributable to this factor.
 Moreover, where blocking has been tried it has been found to be ineffective, in the Netherlands for example the Internet Safety task force found filters did not "contribute to the jointly formulated goal and therefore cannot be employed effectively". While there is not evidence to back up blocks benefitting the social good, what we do know is the collateral damage such attempts make. ORG has clearly demonstrated the effects of over blocking on mobile networks.
 David Cameron has been promising "good, clean WiFi" in public spaces to give parents peace of mind. But he is not in a position to offer any such thing. We should not be in the business of outsourcing moral choice, nor encouraging parents to think it is possible, let alone desirable. Nor should we just focus on just one part of culture and society, however fashionable it is to hold forth about the web and social media at the moment. I haven't seen calls on the Publishers' Association to somehow make bookshops default 18 plus following the 50 shades of profit their members have made from erotica. Even if we wish it otherwise, the uncomfortable truth is this. Humanity does not have factory settings. There is no button to push to make evil stop.
 There are always a huge number of complex factors that feed in to complex social problems. The Prevent strategy highlights a range of settings which are important in addressing radicalisation - the criminal justice system, schools, universities, health delivery, faith institutions and organisations, prisons and probation. One can say the same about attacks on children, and of course many institutions have a role to play in combatting them, perhaps not least the Catholic Church.
 To make the Internet the key factor is wrong headed. Two major elements identified in Prevent as to why people are attracted to extremism are being in a lower socio-economic group, and that extremist views are "significantly associated ... with experience of racial or religious harassment".
It is vital that as a digital rights movement we do not just protect our interests, without taking a wider interest in the society in which we take part. That will rightly lay us open to the charge of being shortsighted and anti-social. But of course poverty, abuse and racism are difficult to deal with. It is far more attractive for politicians to blame the Internet when they are under pressure from the tabloids. It's simpler to hold out promises of magic technological solutions even if they have no basis in reality. In austerity Britain it's cheaper to make social policy Google or BT's problem, and their expense. But this is lazy thinking, and worst of all will do nothing to address the full range of causes of some of our most worrying problems. We may yet come to pay dearly for current politicians' lack of imagination.
Share this article











Comments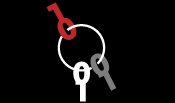 Latest Articles
Featured Article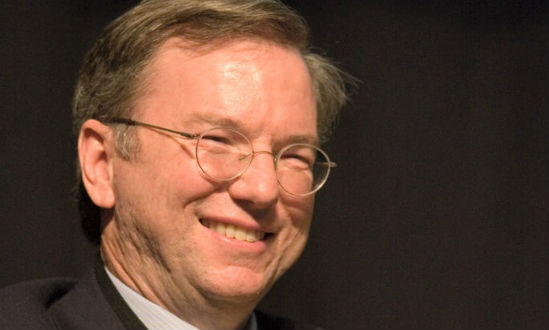 Wendy M. Grossman responds to "loopy" statements made by Google Executive Chairman Eric Schmidt in regards to censorship and encryption.
ORGZine: the Digital Rights magazine written for and by Open Rights Group supporters and engaged experts expressing their personal views
People who have written us are: campaigners, inventors, legal professionals , artists, writers, curators and publishers, technology experts, volunteers, think tanks, MPs, journalists and ORG supporters.
ORG Events