How to use the Curator's Code
Ruth Coustick explains how the Curator's Code works and the intentions and ideas behind it.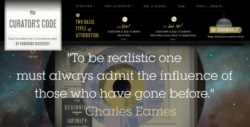 Image: Site designed by Kelli Anderson
Following my trail of image-centred blog reading I have recently come across the Curator's Code. (In the spirit of this invention I would like to hat-tip Off Beat Empire before I continue). Maria Popova, writer of brainpickings.org is:
"doing for attribution of discovery what Creative Commons has done for image attribution "
Creative Commons, whilst allowing re-mixing and re-distribution of data, recognises the need to credit the original source. The Curator's Code credits the person who does the re-distributing as well. As the site says:
"In an age of information overload, information discovery — the service of bringing to the public's attention that which is interesting, meaningful, important, and otherwise worthy of our time and thought — is a form of creative and intellectual labor, and one of increasing importance and urgency. A form of authorship, if you will."
The point being that it is not just the artist, but the museum curator who deserves some recognition. So let's just explain how this works. They have introduced two little symbols for everyday use when attributing sources.
"The system is based on two basic types of attribution, each shorthanded by a special unicode character, much like ™ for "trademark" and for © "copyright." And while the symbols are a cleaner way to do it, you may still choose to credit the "old-fashioned" way, using "via" and "HT""
Symbol 1.
ᔥstands for via -This is for direct discovery
Symbol 2
↬stands for hat tip -This is for work you have edited or expanded upon
To give an example: if you want to post an image of cat in a hammock you can attribute the site you found it on catsinhammocks.com and the original photographer SelenaKyle01 on Flickr like this:
↬Cats in Hammocks |  ᔥ SelinaKyle01 Flickr
This example is sadly entirely made up. The symbols/codes are available as an 'Attribute!' button on your bookmark bar, which is how I am using them now. If you want further explanation please visit both the Curator's Code site and brain pickings  which has much detail about how it all works, how to download the bookmarklet and some great design. The message here is not simply about how to credit, but to credit.
As a blogger I am keen to spread the use of these unicodes amongst the Web. However, as she comments, the symbols don't matter quite so much as the discussion and the intent. Following on from my recent article on Kickstarter as the eRenaissance, what also interests me is the attitude and the terminology of honour codes involved:
"This not about policing the Internet from a place of top-down authority, it's about encouraging respect and kindness among the community. "
Recently I was introduced to the free speech debate website which promotes a set of codes for behaviour and free speech on the internet. I have listed the first 3 of these below, but would recommend delving into the site for the rest.
1.We – all human beings – must be free and able to express ourselves, and to receive and impart information and ideas, regardless of frontiers.
2.We defend the internet and all other forms of communication against illegitimate encroachments by both public and private powers.
3.We require and create open, diverse media so we can make well-informed decisions and participate fully in political life.
These two separate sites have something in common with each other. Across the internet there is a spread of ideas about protecting the artists and human rights with 'codes' rather 'acts'. Pretty much every forum I have participated in has had its own code of behaviour. Sometimes these are very specific to that discussion topic "always give spoiler warnings" / "trigger warnings", depending on my digital location, but there is always a general understanding of "Be nice" in our discussions. Yet, governments are attempting to codify the rolling and shifting landscape of the internet with unpopular rhyming laws: ACTA, SOPA, COPA, but the Curator's Code and the 10 principles for global free speech address similar problems through a polite call to self-regulation.
It's not just "don't be evil". It is "be honourable". And if I can feel like people on the Internet can be knights, not trolls, then I am happy.
 All quotations are taken from brainpickings with permission of the author.
Tags
Share this article











Comments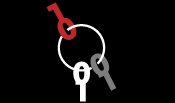 Latest Articles
Featured Article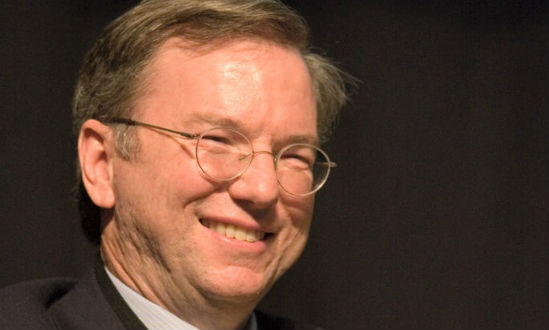 Wendy M. Grossman responds to "loopy" statements made by Google Executive Chairman Eric Schmidt in regards to censorship and encryption.
ORGZine: the Digital Rights magazine written for and by Open Rights Group supporters and engaged experts expressing their personal views
People who have written us are: campaigners, inventors, legal professionals , artists, writers, curators and publishers, technology experts, volunteers, think tanks, MPs, journalists and ORG supporters.
ORG Events